eTicket is a PHP-based electronic support ticket system that can receive tickets via email (pop3/pipe) or a web form. It also offers a ticket manager with many features. An ideal, easy to use and install helpdesk solution for any website.
eTicket offers many features and can be easily skinned to the look and feel of your website.
Downloads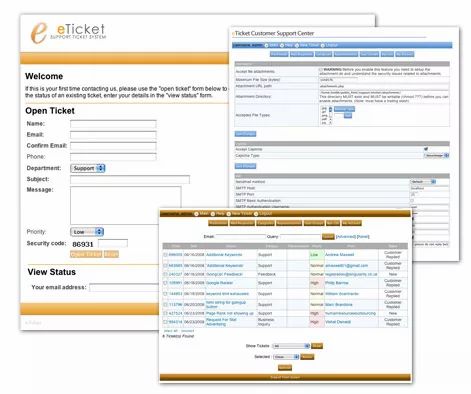 Announcement
Posted August 30, 2013 by jason
So we've been working the past year on a multi-domain version of eTicket, that offers email (by smtp/pop3) and other features, to make it easier to use and install.
If all continues as planned we'll finish it by the end of September.
It will be either a JS or PHP widget, that will include an FAQ engine as well as a ticket desk of all the emails from your customers. Simply install the code and you'll have a fully functioning email and FAQ support area for your site. It should be quite nifty.
Here are some screenshots of how it could integrate with your site..
http://i42.tinypic.com/1z17hg0.jpg
What you are waiting for?